Lessons from the Chronic Disease Doc: Dr. Hugo Rodier's Tips for Switching Off Chronic Disease
Where to Buy Nutritional Supplements
One of the most common questions I hear in my practice is, "How do I know which supplement companies I can trust?" I recommend the following companies that I know and trust for nutritional supplements. These companies offer high-quality products at prices that my patients can afford.
Note: While I endorse certain brands that I believe in and I often speak for nutraceutical companies, I do not ever profit from any products that they sell.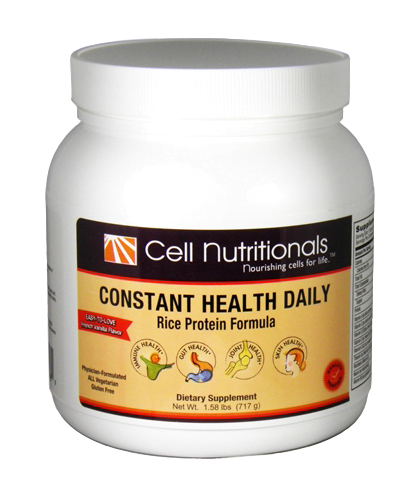 Constant Health Daily is an all-in-one drink mix from Cell Nutritionals that supports digestion, liver detoxification and immune system building.
I know it's hard to change your diet, so I recommend starting with this cellular renewal drink mix to speed up the detox process and support you through my 8-week diet.
If you're looking for more information about book, my blog, or just want to find out a little bit more about me, go to my full website at www.hugorodier.com. There you'll also find a list of the Top 14 Supplements I recommend as well as where to buy them so you can start my Cellular Detox Diet today!

What My Patients Have to Say

"Dr. Rodier was a lifesaver. I had gone to every doctor imaginable and my life kept disintegrating right before my eyes, and I was only in my thirties. Dr. Rodier helped me recover from something I had never heard of - small intestinal bacterial overgrowth - and he taught me how to maintain my health through diet and nutrition. Probiotics and a low-glycemic diet were the keys to my recovery and staying well."
"As a patient, I appreciate that Dr. Rodier has always been able to explain what is happening in my body, especially after other physicians have just shrugged or referred me out to some new specialist. Dr. Rodier devised a protocol that helped me overcome chronic fatigue, and I feel like myself again. I will always be grateful."
"Dr. Rodier is a bit of a throwback to a time when medicine was about keeping people well and not so much about the business of making money. I love that he is always looking for the most affordable solutions possible."
Cellular TOIL: The Four Contributors to Chronic Disease
After decades of refining my protocol to help patients ditch chronic disease, I have come to believe that the root cause of all chronic disease stems from four basic ongoing conditions at the cellular level.
Each of these four factors, Toxicity, Oxidation, Inflammation and Lack of optimal mitochondrial energy (TOIL), triggers problems in cellular communication, repair, and renewal. Click here to learn more.